Jan 2021 Research Spotlight
Center for Excellence in Scholarship and Research
Research and Sponsored Programs
---

Dr. Teri Wallace, Interim Associate VP for Research & Dean of Extended Campus
Research Month
April 2021 will be the first Research Month at Minnesota State University, Mankato! The purpose of Research Month Mankato is to highlight, celebrate and share the research, scholarly and creative work of our faculty, staff and students internally and externally. While not an ideal year to begin a new initiative, recognition and celebration are so important. The Faculty Research Committee representatives will be gathering ideas from colleges. See members listed below. Also, please watch for more information and if you have ideas to share, please contact Dr. Karla Lassonde at karla.lassonde@mnsu.edu or Dr. Teri Wallace at Teresa.wallace@mnsu.edu.
Faculty Research Committee: Academic Year 2020-2021
Academic Affairs: Kris Retherford;
Reminder: Douglas R. Moore Faculty Research Lectureship
President Davenport invites your application for the President's 2022 Douglas R. Moore Faculty Research Lectureship. This distinguished award offers a stipend of $6,000 with unrestricted use to honor the excellent research of a colleague within the Minnesota State University, Mankato community. Applications are due in the Office of the Provost, via email to julie.joerg@mnsu.edu by Thursday, Feb. 4, 2021. The 2022 award recipient will present his or her lecture at a spring 2022 formal gathering. If you need information about the application, please contact Julie at Julie.joerg@mnsu.edu.
---

Dr. Dan Houlihan - Director, Center for Excellence in Scholarship and Research
The 2020 Minnesota State University Distinguished Faculty Scholars

Dr. Jose Javier Lopez
Jose Javier Lopez is a Professor in the Department of Geography active mainly as a quantitative geographer and spatial analyst. Since becoming a faculty member of MSU's College of Social and Behavioral Sciences in the late 1990s, Lopez has researched different issues pertinent to the human geography of the United States and Latin America. Over the years he has taught many systematic courses, including Spatial Statistics, Spatial Analysis, Geographic Information Science for Crime Analysis, Cultural Geography, Economic Geography, Social Geography, and Rural Development. Dr. Lopez's innovative research in conjunction with Dr. Pedro Thomas provided the foundation for the regional analysis of police misconduct patterns in the United States almost 20 years ago and was published in peer-reviewed academic journals years before these issues became common topics of discussion. These resulted in invitations to present his research at numerous institutions in the United States, Canada, and the Caribbean. For Dr. Lopez, the geography of crime and violence is the study of the social organization of criminal activities from a territorial viewpoint. He has also researched the geography of extreme violence and was involved in the production of the Atlas of Crime, a project led by the prestigious cartographer Borden D. Dent during the late 1990s. From 2010 to 2019 his studies with Dr. Thomas have focused on the spatial patterns of sex trafficking in different regions of the U.S. These investigations resulted in three recent publications in prestigious journals and more recently, a Keynote Speech at an international conference on Social Science in Japan where he spoke about the use of inferential spatial statistics, point pattern analysis, and spatial autocorrelation to fight human trafficking.

Dr. Karla Lassonde
Dr. Lassonde is a Professor of Psychology at Minnesota State University for 14 years and teaches a variety of introductory courses, including Introduction to Psychological Science, Psychology Statistics, and Introduction to Cognition as well as the specialty courses: Human Memory and Advanced Cognition. Most recently, she has designed the course, Communicating Psychological Science in which I educate undergraduates on how to be ambassadors of the field. Students in the course contribute blogs to the website she hosts with colleague Dr. Emily Stark: https://www.communicatingpsychologicalscience.com/. All of Dr. Lassonde's research has been realized with the support of undergraduates. She states, "I believe this work is the very best way I can support students for their careers. Students are naturally curious about cognitive research as thinking, attention, and memory are topics that cut across their learning experiences in college. My research is focused on methods for revising psychological misconceptions, knowledge change for controversial topics, and a method for successful student learning called LEARN." More information on Dr. Lassonde's teaching, research, and community outreach can be found on her website: https://www.karlalassonde.com/ and Blog: https://everydaymemory.org/author/karlalassonde/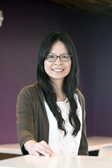 Dr. Hsinhuei Sheen Chiou
As noted by Dr. Chiou, "My passion is in teaching, research, and service. My teaching provides students with high-quality preparation for careers in speech-language pathology. My research and clinical practice focus on neurogenic communication disorders in older adults. In my Brain Injury Research Lab, I continually engage in scholarly activities nationally and internationally to further investigate language and cognitive impairments and conduct innovative interprofessional research projects dedicated to preparing aphasia-friendly and dementia-welcoming communities in Minnesota." Dr. Chiou has co-authored ten publications, contributed to 15 successful grants, produced over 150 scholarly presentations, and mentored more than 160 students for research and interdisciplinary collaboration tasks in the past 10 years. Through innovative global initiatives, Sheen created the MSU Mankato Global Experiences Program and established new international partnerships for MSU, Mankato. She currently serves as co-President of the Asian Pacific Islander Speech-Language-Hearing Caucus to promote speech, language, and hearing health in the global Asian Pacific Islander communities.
The Above and Beyond Award
The Above and Beyond Award was developed and 'so-named' by the Leadership Committee of the College of Graduate Studies. It was designed to identify someone making noteworthy contributions to the university who might not otherwise be recognized due to not being affiliated with an academic program. Because of reorganization occurring following the retirement of Graduate Dean, Steve Stoynoff, this is likely the only time this recognition will be given as such. The 2020-21 recipient, as determined by the Leadership Committee, is Dr. Carrie Miller.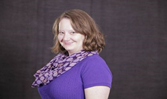 Dr. Carrie Lewis Miller
Dr. Miller is in her 7th year as an Instructional Designer at Minnesota State University. In her time at the university, she has worked with faculty helping them to develop Open Educational Resources that have resulted in saving students $400,000 in textbook costs. Utilizing funding from multiple grants, she has mentored faculty in both OER and classroom gamification applications. Dr. Miller has established herself as being very accessible to assist faculty with a variety of instructional needs and issues. She is also an avid researcher and writer, having 20 peer-reviewed journal publications and a large variety of other published scholarly materials. Especially impressive is Dr. Miller's record of publishing research with students. Although she often teaches as an adjunct, Dr. Miller is not affiliated with a specific academic program. As such, the students she works with and mentors are from a variety of disciplines. Her work with these students often results in presentations and publications (with them often as first authors) that are significant factors in advancing their careers and educational opportunities. Three recent Graduate Assistants that worked with her were accepted into very prestigious doctoral programs in a variety of areas. All credit the opportunities and guidance she provided to them as being major factors in their being accepted into those programs. As the title of the award states, Dr. Miller does indeed go above and beyond in her efforts and dedication to the faculty and students at Minnesota State University!
IRB Application/Submission Process – Wednesday, Feb. 10 at 10 am
Survey Construction and Validation – Friday, Feb. 12 at 10 am
Intro to Qualtrics – Wednesday, Feb. 24 at 10 am
Advanced SPSS – Friday, March 26 at 10 am
Qualitative Research – Friday, April 30 at 10 am
All workshops for 2021 will still be on Zoom. Be watching for additional workshops to be added as the semester nears. Also, if you have any specific requests for workshops please let us know and we will try to develop them. Contact Dr. Dan Houlihan at dan.houlihan@mnsu.edu for more information.
---

Kristel Seth - Director, Research and Sponsored Programs
Grant Opportunities
RWJF Equity-Focused Policy Research: Building Cross-Cutting Evidence on Supports for Families with Young Children
The Equity-Focused Policy Research (EFPR) grant program seeks to fund a body of research that illuminates strategies and policies that enhance families' equitable access to key resources for supporting their children's healthy development. EFPR grants are guided by a research agenda that focuses on: (1) understanding the sources of inequities in families' access to and use of key resources; (2) identifying and testing innovations to advance equity; and (3) strategies for scaling up policies and approaches that are effective in advancing equity. Proposals are due by February 16, 2021.
Graham Foundation for Advanced Studies in the Fine Arts: Production, Presentation Grants
The Graham Foundation for Advanced Studies in the Fine Arts works to foster the development and exchange of diverse and challenging ideas about architecture and its role in the arts, culture, and society. To that end, the foundation welcomes applications from organizations for its Production and Presentation Grants. Through the program, grants of up to $30,000 (though likely to be much less) will be awarded for production-related expenses that are necessary to take a project from conceptualization to public presentation. Projects may include but are not limited to publications, exhibitions, installations, films, new media projects, conferences/lectures, and other public programs.Proposals are due by February 25, 2021.
The purpose of a Faculty Research Grant (FRG) at Minnesota State University, Mankato is to encourage excellence in research, scholarship, and creative activities among Minnesota State Mankato faculty. These seed grants support faculty initiatives in all disciplines including basic, applied, and pedagogical research as well as creative projects. More information can be found at https://research.mnsu.edu/research-and-sponsored-programs/Find-funding/faculty-research-grants2/. The application deadline for the spring Faculty Research Grant (FRG) is Thursday, March 4th.
Workshop: The Office of Research and Sponsored Programs will be presenting a Zoom workshop at 10am on Friday, February 5th. We will be reviewing the FRG guidelines and walking through the application. To register please send an email to Jeane McGraw, jeane.mcgraw@mnsu.edu.
Financial support for grant writing time will be awarded in accordance with the individual union's contractual stipulations. For additional details, please refer to the guidelines and proposal requirements posted at https://research.mnsu.edu/research-and-sponsored-programs/Find-funding/grant-writing-incentive/. This information is being distributed to all faculty and staff. Awards will be determined and notifications sent by the end of the semester.
Workshop: A zoom pop-in session has been scheduled to go over the Grant Writing Incentive program, review the guidelines, ask questions, etc. It will be held on Friday, February 12th, from 12-1pm. If you would like to register, please email kristel.seth@mnsu.edu.
Review Committee Call: Reviewers for the Grant Writing Incentive will include a committee of faculty and staff who have successfully received external funding. We will distribute applications by March 26th and anticipate that reviews could be completed by April 12th. The committee will meet one time (via zoom) that week to confirm funding recommendations. If you are willing to serve in this important role, please contact Kristel Seth (kristel.seth@mnsu.edu). If you know of someone who would be willing to serve in this capacity, please encourage the person to contact us. Thank you for your consideration.
Tips: Contacting a Program Officer
Why contact a PO
The Program Officer (PO) has knowledge of the research program and funding priorities.
The PO can advise on the specific objectives and fit with the solicitation.
The PO is aware of upcoming funding opportunities that might fit the proposed research better than the currently identified mechanism and can direct the PI to other Institutes/Centers/Programs that might be more enthusiastic.
The Do's and Don'ts
Do not ask questions that are "answered" in the solicitation (read the solicitation carefully).
Never call a PO to "chat" about research.
If you don't hear back from an initial e-mail request, wait two weeks and try again. If you still don't hear back, try reaching out to another PO.
Do send an email to the PO that includes the brief abstract. Ask about the fit with the Institute/Center/Program and include a reference to the solicitation.
Do see the PO as a partner that can benefit your relationship with the funding agency.
Questions for POs
Does the proposed research align with program's current priorities?
What could be modified to improve the chances of success?
Is there a general rule of thumb regarding preliminary data?
Is the proposed solicitation an appropriate mechanism for the proposed research?
When to Contact a PO
Before the proposal is developed – the earlier the better.
Impact Testimonial
Hot Shots for Cold Climates - Evaluating Treatment of The Hardest Icy Spots
Researchers from the Center for Transportation Research and Implementation (CTRI) at MSU Mankato recently completed this study of roadway deicing at 20 locations across south central and western Minnesota. Work focused on defining "normal" and stubbornly difficult roadway sections then characterizing the salt chloride use required; black ice, drifting, ice compaction and blow ice were some of the bad road conditions studied on a route covering 600 miles per week through ten counties. Researchers were defining the boundary between environmentally protective practices and enhanced safety requirements, then characterizing the factors influencing the sometimes-conflicting goals. Seven civil engineering students contributed with field work and support. MnDOT has made for a great funding source as they encouraged the team to take intellectual risks in the evaluation process, similar to what we ask of our students in the learning process. MnDOT credits the research with enhancing the effectiveness of their winter maintenance efforts. Results have been published in the MnDOT publication system, and a video series was made to enhance dissemination: https://mediaspace.minnstate.edu/media/HotShots+Vid1%262+Final+V2+8-21-2020/1_7nq60yjo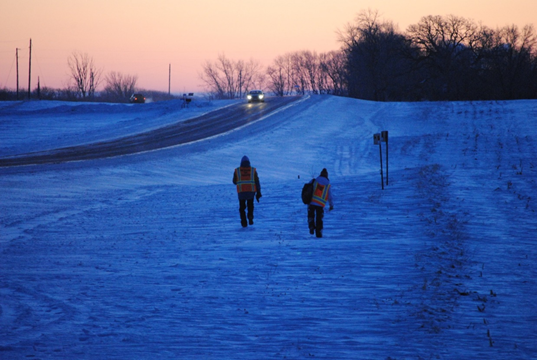 Student workers heading out to collect data in the pre-dawn at -25° F,
squeaking with every step in the snow.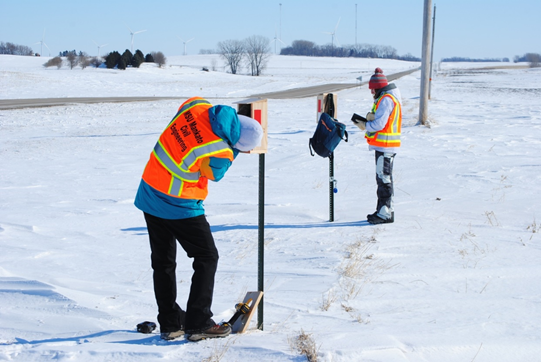 Downloading data collectors and changing batteries near Ivanhoe, Minnesota.
~Steve Druschel
Civil Engineering and the Center of Transportation Research and Implementation
---
Institutional Review Board
Call for Director of the IRB
Director, Institutional Review Board (IRB) Description
Call for Nominations:
I hope this communication finds you doing well. With the retirement of Dr. Mary Hadley this summer, we will be left with an important role to fill in our university. Therefore, I am writing with a call for nominations for Director of the Institutional Review Board (IRB).
The Director of the IRB provides advice and assistance to investigators regarding the procedural requirements to obtain IRB approval to conduct research as defined by 45 CFR 46 and oversees the confidential institutional review and approval process of all research activities involving human subjects to protect their safety, rights, and welfare.
The Director reports to the Interim Associate Vice President for Research and Dean of Extended campus and receives 0.50 reassignment for the academic year to carry out the responsibilities. The Director position has the potential for additional duty days to continue reviews during non-duty days, especially in summer.
The initial appointment will begin July 1st, 2021, and continue through July 2024. The appointment for the Director is for three (3) years with the option to renew two (2) times for a total of nine (9) years.
The academic department of the selected faculty will receive resources for a fixed-term or adjunct faculty, as determined in collaboration with the College Dean. Nominations and self-nominations are encouraged for this important position. Faculty interested in this opportunity should electronically submit a letter of interest, including a summary of qualifications for the position (see position description attached), and a current vita by 4:00 p.m. on January 29th, 2021. Electronic submissions may be sent to teresa.wallace@mnsu.edu with a copy to Julie.joerg@mnsu.edu.
Thank you for your consideration of this important role!
OHRP Soliciting Nominations for SACHRP Membership
OHRP is seeking nominations of qualified candidates to be considered for appointment as members of the Secretary's Advisory Committee on Human Research Protections; nominations will be accepted through February 12, 2021. The following information should be included in the package of material submitted for each individual being nominated for consideration: (1) A letter of nomination that clearly states the name and affiliation of the nominee, the basis for the nomination (i.e., specific attributes which qualify the nominee for service in this capacity), and a statement that the nominee is willing to serve as a member of the Committee; (2) the nominator's name, address, daytime telephone number, and the home and/ or work address, telephone number, and email address of the individual being nominated; and (3) a current copy of the nominee's curriculum vitae. Federal employees should not be nominated for consideration of appointment to this Committee.
For further information: https://www.govinfo.gov/content/pkg/FR-2020-12-14/pdf/2020-27417.pdf
---
Connecting to Student Success
Undergraduate Research
A Brief History of the Undergraduate Research Center
Our university has a rich history of promoting undergraduate research, scholarship, and creative activity, which is highlighted each spring at the annual Undergraduate Research Symposium. Since 1998, the Symposium, a faculty-driven grassroots effort, has been a venue to celebrate excellence in interdisciplinary scholarship on campus. Students present their research in various formats including oral presentations, poster sessions, performances, scholarly and creative work, and art displays.
In 2008, an advisory committee of faculty and administrators was formed to provide leadership for undergraduate research. The advisory group sought to improve the presence and quality of undergraduate-faculty collaborations across campus and consisted of representatives of faculty and administration with the common goal of helping the university achieve its mission of promoting learning by effectively integrating undergraduate teaching, scholarship and research. As a result of the advisory committee's efforts, the Undergraduate Research Center was established during the 2010-2011 academic year, marking this the 10th year of the URC
Upcoming Events and Services
Events: All events for 2021 will be conducted in a virtual format.
Services: The Undergraduate Research Center (URC) is here to support student excellence in research and creative works throughout the year. For students at any point in the process, we hope to provide guidance to help you during this time. We can help you find a mentor, propose a project, find funding, and present your work. To find out more about these events and other resources, visit the URC web page or schedule a Zoom meeting with one of our Graduate Assistants.
We're here to help! Email us at urc@mnsu.edu with questions or to set up a meeting,
Visit us at https://research.mnsu.edu/undergraduate-research-center/
Follow us on Facebook and Twitter
Twitter: @URC_MSUMankato
Facebook: @mnsu.urc
How URC Might Help You?
"To me, the undergraduate research translated to the very foundation of my work within the arts. Research that was conducted thanks to the Undergraduate Research Center (URC) grant, allowed me to answer questions about the ceramics medium, as well as ask even more questions and open up a plethora of possibilities. The ability to conduct research helped me identify my interest within the ceramics field and helped me understand what I most enjoy and look forward to when working with the medium, which is essential as an artist!"
~ Dylan Fitzgibbons ~
Student
College of Arts and Humanities,
Minnesota State University, Mankato
Undergraduate Research Symposium Application
The Undergraduate Research Symposium is an annual event hosted by the Undergraduate Research Center that provides a platform for students from all disciplines to present and share their scholarly research activity with other students and faculty. This year the event will take a virtual format adhering to the University's Covid-19 guidelines.
The event is scheduled for April 15, 2021, and information regarding the application process and important dates will be announced by email, social media, and newsletters.
To find out more about this tremendous opportunity visit:
https://research.mnsu.edu/undergraduate-research-center/undergraduate-research-center-present-and-publish/
Graduate Student Grants
Graduate Student Research Grants: Deadline February 8th
The spring 2021 graduate student research grant application period is now open. The guidelines and forms may be accessed at https://research.mnsu.edu/research-and-sponsored-programs/Find-funding/graduate-research-grants/. Applications for the spring 2021 grants are due Monday, February 8th, by 5pm. Applicants should review the guidelines carefully and work with their research mentor to apply.
Review Committee Call: Reviewers for the Graduate Student Research Grants will include a committee of faculty and staff. We will distribute applications by February 12th and anticipate that reviews could be completed by February 26th. If you are willing to serve in this important role, please contact Julie Joerg (julie.joerg@mnsu.edu). If you know of someone who would be willing to serve in this capacity, please encourage the person to contact us. Thank you for your consideration.