Research, Scholarly and Creative Activities
A variety of research presentations and resources are available here—any time, on demand. Get inspired by the great research taking place at Minnesota State Mankato.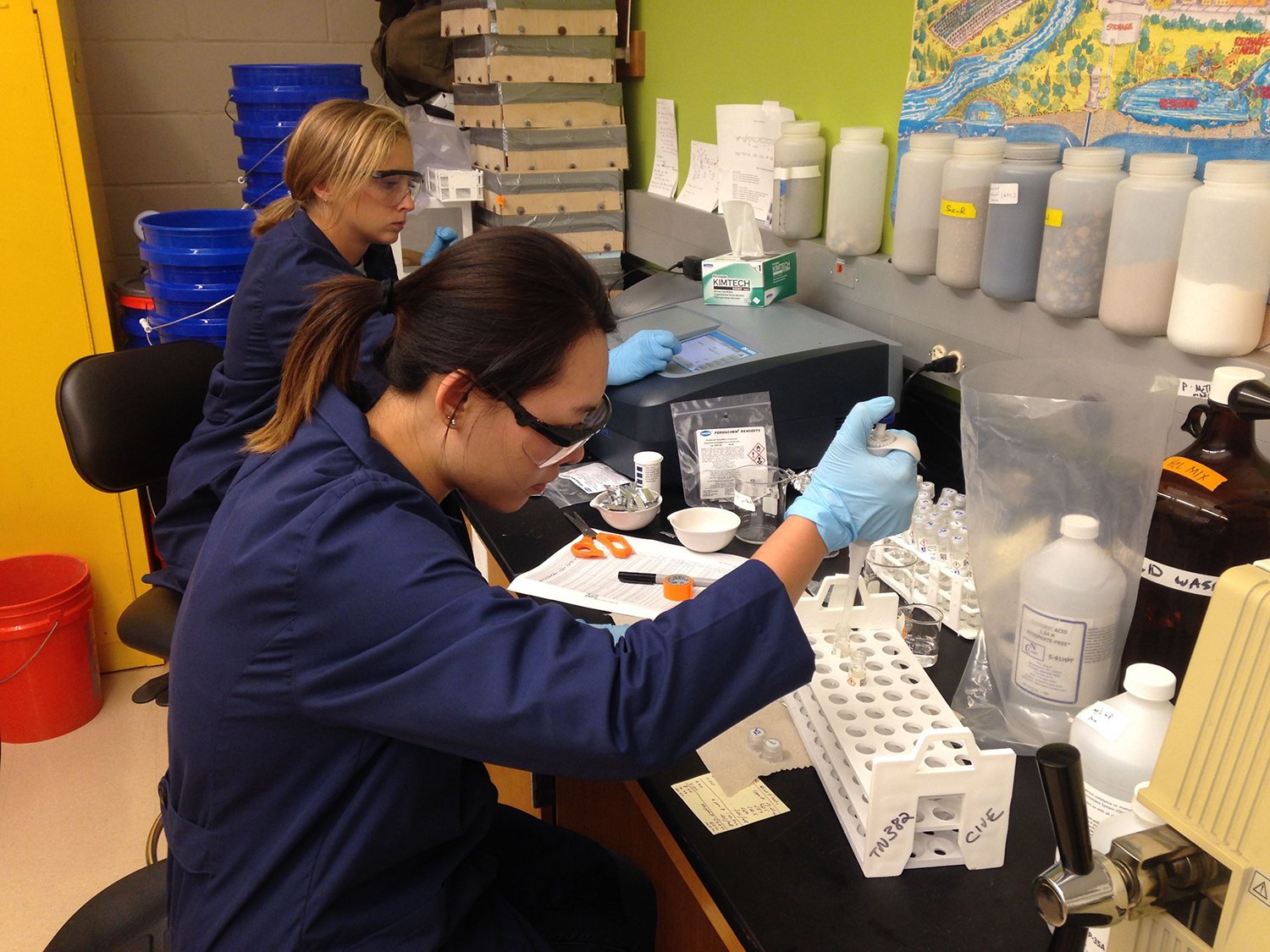 ---
Zoom virtual Backgrounds
Support awareness of Research Month by choosing Zoom virtual backgrounds.
Research Month Zoom Background #1
Research Month Zoom Background #2
---
Share your research
Cornerstone collects, preserves, and provides digital access to the scholarly and creative works of Minnesota State University, Mankato faculty, staff, students, and associated partners. Learn how to submit your work to cornerstone.
---
Undergraduate Research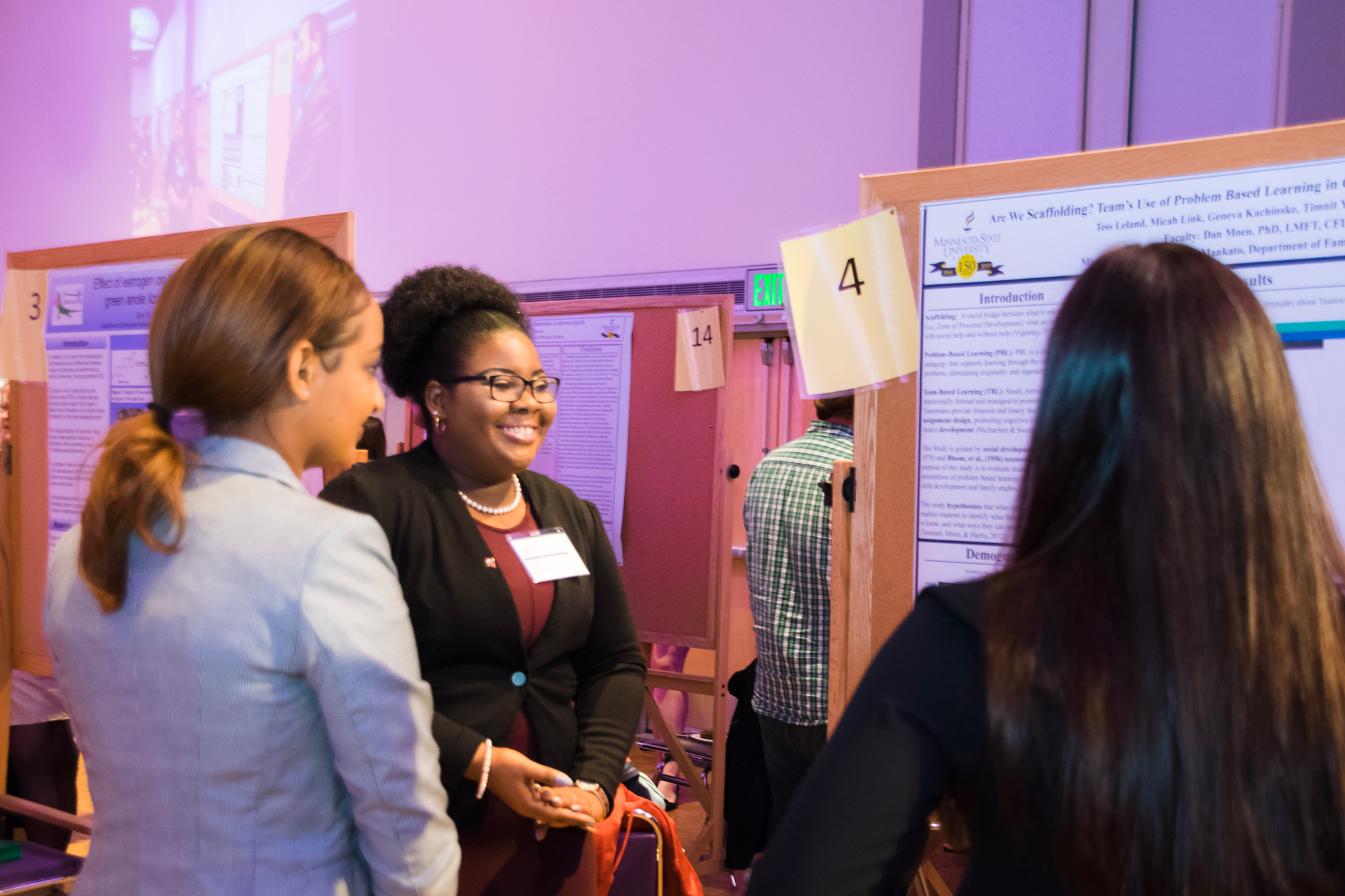 The Undergraduate Research Symposium will be held in the Centennial Student Union with in-person poster and oral presentations, as well as creative expositions on Thursday, April 20, 2023. Undergraduate research, scholarly, and creative activities from a wide array of disciplines and majors are featured.
---
Graduating Honors students present their final portfolios outlining their experiences in leadership, research, scholarly and creative activity, and intercultural engagement. Defenses happen various times between April 10-26.
---
Graduate Research
Graduate Students of Dr. Matt Kaproth
Presentation and Publication: Alex Kirsch—Defining Plant Ecological Specialists and Generalist: Building a Framework for Identification and Classification
This event features the MS Biology Thesis of Alex Kirsch. Alex defined, quatified and analyzed patterns of plant specialists and generalists using Quercus (oaks) as a model system. He discusses how this terminology aligns with expert rankings and IUCN Red List of Threatened Species assessments. The evolutionary origin of specialists and conservation implications are discussed as well.
Poster Presentation: Ashley Selee—Biogeography of Functional Traits and Fire Regimes in Quercus Species Across the United States
Poster Presentation: Jean Pengra and Jenna Eklund—Testing Environmental Heterogeneity as a Driver of Understory Vegetation Composition in Midwestern Oak Savannas
---
Faculty Research
he 49th annual Douglas R. Moore Faculty Research Lecture at Minnesota State University, Mankato took place on Monday, March 20 and featured a presentation by faculty member David Sharlin that analyzes the growing cause for concern on thyroid hormone disrupting chemicals and nervous system development.
---
Matthew Kaproth explores drought tolerance adaptation and acclimation in oaks in this on-demand research presentation.
---
Nancy Fitzsimons explores evidence-based practice from an equity lense, a presentation delivered to the National Association of Social Workers, Minnesota Chapter at the Winter's Brightest Ideas Virtual Conference. Social workers are called to engage in evidence-based practice (EBP) and equity-minded social work practice. Yet, how many of us have a grasp of EBP beyond a very simple understanding? Equity-minded practice is a relatively new focus. Increasingly, social workers are called to center equity in their practice at all system levels. This dual focus of EBP and equity-minded practice raise many ethical questions, including questions of compatibility or contradiction. Both are explored to determine if and/or how to engage in evidence-based practice from an equity lens.
---
On Feb. 3, 1959, Buddy Holly, J.P. "The Big Bopper" Richardson, and Ritchie Valens boarded a small aircraft while touring with the Winter Dance Party. Their plane crashed just outside of Clear Lake, Iowa, where they had played their last concert. The three performers and the pilot died in the crash. The 2022 Frontier Forum, presented by Beth A. Wielde Heidelberg, focused on how the City of Clear Lake has used policy and urban planning to not just to mourn those who passed away in the crash, but to turn the tragedy into an enduring legacy of music education and celebration of musicians who have shaped modern music.
---
Created by Dr. Emily Stark and Dr. Karla Lassonde, the Communicating Psychological Science website is designed to promote the understanding of psychology as a science and to develop science communication abilities in undergraduate students. The site showcases student research for the general public. Read more about the goals of our work.
---
This event features guest speaker Ryan J. Wilson, Ph.D and this year's faculty research award recipients.
---
Research of Dr. Dawn Armfield of Minnesota State University, Mankato
Dawn Armfield of Minnesota State University, Mankato in collaboration with Shadow Armfield and James Ingram of Northern Arizona University will present at a variety of conferences in 2023, including the Twenty-first International Conference on New Directions in the Humanities in Paris, France on June 28-30, 2023; The International Conference on Humanities, Social, and Education Sciences in Denver, CO on April 13-16, 2023; and The Evidence for Success Disability Conference in Fort McDowell, AZ on June 21-22, 2023. Research focuses on disability advocacy and virtual reality. The presentations will be available online once presented.
---
Agriculture, Food and Natural Resources Affinity Group - Guest Research Presentation
Dr. Josh Havill summarizes recent investigations into the evaluation of hop genetic resources for powdery mildew resistance which can be leveraged to develop novel, Midwestern-adapted varieties processing broad-spectrum disease resistance.
---
Creative Activities
This exciting event showcases the big ideas of our students. The Big Ideas Challenge is a venture competition that encourages and celebrates innovative business ideas. The competition is open to Minnesota State Mankato students and alumni within two years of graduation. The event takes place April 12 and is open to the public.
The purpose of this project is to educate and spread awareness of one method of legal and customary segregation in smaller northern communities like Mankato and to empower community members to become engaged in issues surrounding systemic racism.
Racial Discrimination in the Upper Midwest - recorded March 14, 2023
This exhibit will be housed in the Memorial Library through May 23, 2023 and features an international library community-organizing embroidery project created by University of Massachusetts Amherst librarian Ann Kardos. Metadata work is not typically seen as creative work, but work that is guided by national standards, best practices, policies and guidelines in order to produce and maintain standard records for library resources that can be shared between institutions and vendors. Metadata librarians and catalogers create and maintain millions of library resources for our patrons, with whom we may rarely (if ever) interact, and we provide valuable backend support for our front-facing colleagues.
---
Conference Presentations
TEDxMNSU
The first ever TEDxMNSU event took place March 18, 2022, uniting the network of Minnesota State University, Mankato through the power of ideas. The mission is to bring together a dynamic group of thinkers and doers in an educational setting to build new connections that will lead to collaboration, progress, and bold new ideas in the spirit of ideas worth spreading.
Using the latest information, broad perspectives, and real-world thinking, this event is an opportunity for allied health professionals and the community to learn from each other to improve the quality of life and well-being for all through research and evidence-based practices.
---
The Midwestern Conference on Professional Psychology (MCPP) is an annual conference hosted by the Department of Psychology. The conference has become known over the years as simply "The Owatonna Conference." The goal of the conference is to promote the dissemination of empirically-oriented research from a variety of disciplines within the field of psychology. The conference is intended to involve a wide audience of students, faculty, and community professionals.
---
Recognition/awards
Dr. Teri Wallace, Interim Associate Vice President for Research and Dean of Extended Campus, Dr. Daniel Houlihan, Director of the Center for Excellence in Scholarship and Research, and the members of the Faculty Research Committee are pleased to announce the 2023 Distinguished Faculty Scholar award recipients: Dr. Kevin Filter (Department of Psychology), Dr. Rachel Cohen (Department of Biological Sciences), and Dr. Vincent Winstead (Department of Electrical and Computer Engineering and Technology). Awardees will be formally recognized at this year's Celebration of Excellence event on April 24 as part of Minnesota State University's Research Month. Congratulations to this year's recipients!